Durty Map Editor
a powerful GTA V Map Editor & Scripting tool
Is your passion creating maps for GTA V? Are you a programmer in search for some tools assisting you with your script development? Do you work on interior maps (MLOs) and need some tools to assist you? Durty Map Editor is what you are searching for.
Get started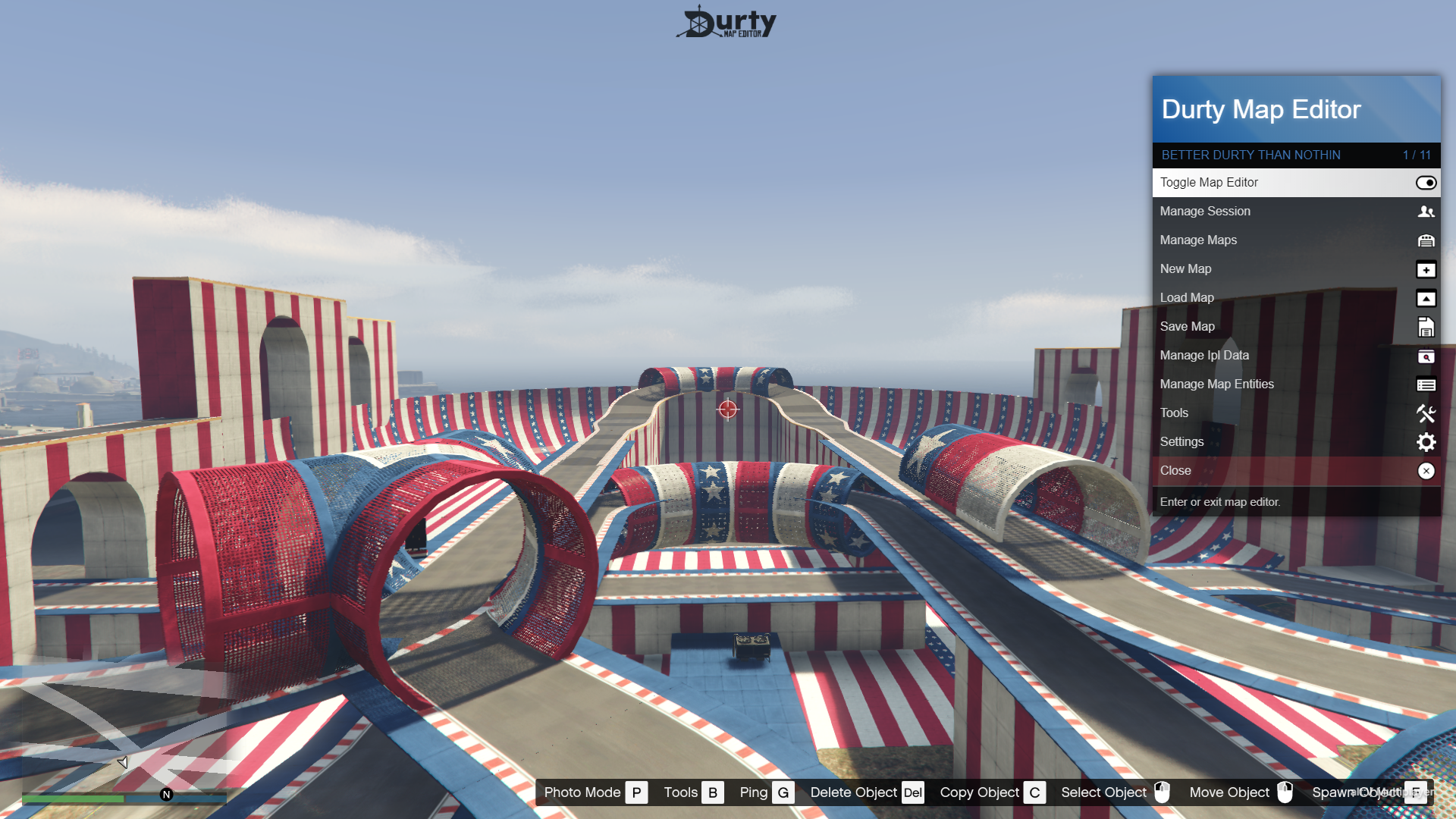 Core features
Durty Map Editor is not like the others
Amazing Objects Browser
Browse more than 140.000 objects using 59 filters to find the objects you are searching for using the most advanced objects browser available for GTA V.
Many formats supported
Various import & exports formats supported like: Map Editor Mod, Menyoo, Ymap, Ymap XML, R* Job, Community Races and ready to use exports like FiveM / alt:V resources.
Maintained and Supported
Weekly editor updates ensure you have no struggle on GTA V updates with manual mod updates, enjoy GTA V's latest features and objects in the map editor and take advantage of new map editor features.
Multiplayer support
Be even more productive by inviting your friends to your mapping session. You can map with an unlimited amount of players on the same map, at the same time!
Useful tools
Our unique tools will make sure you dont have to waste time on some concurrent tasks on your map. Use them to create amazing structures with ease.
Actively developed
Build with passion from ground up, Durty Map Editor takes advantage of several years development and the active integration of our community
Mapping was never easier
Create your own maps in no time.. so easy, even my cat Bailey can use it...
Create your own map

It was never easier
Are you a Mapper or thinking about becoming one? Learn mapping and create your own maps in no time with the tools Durty Map Editor brings to you.
Choose the right plan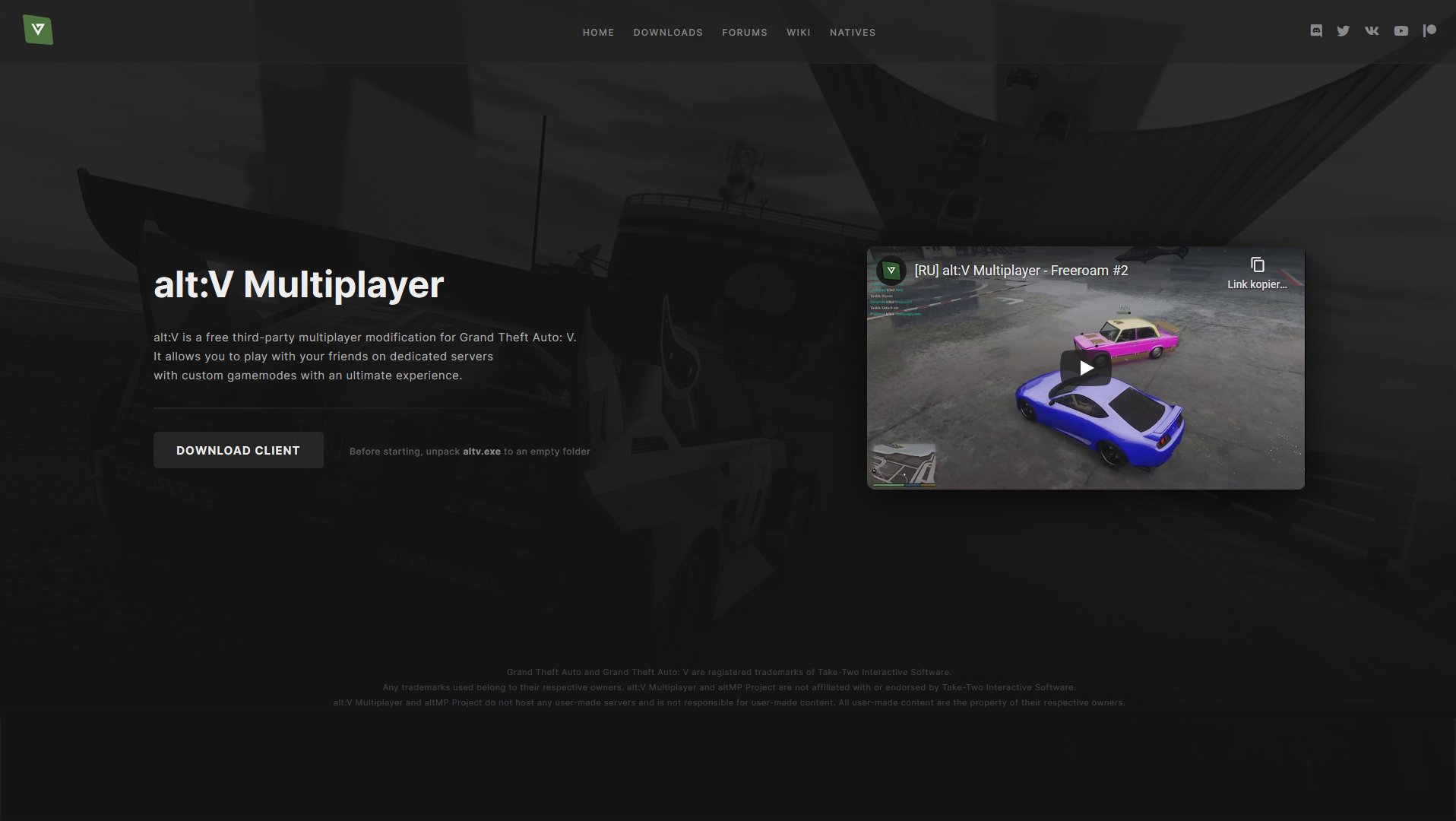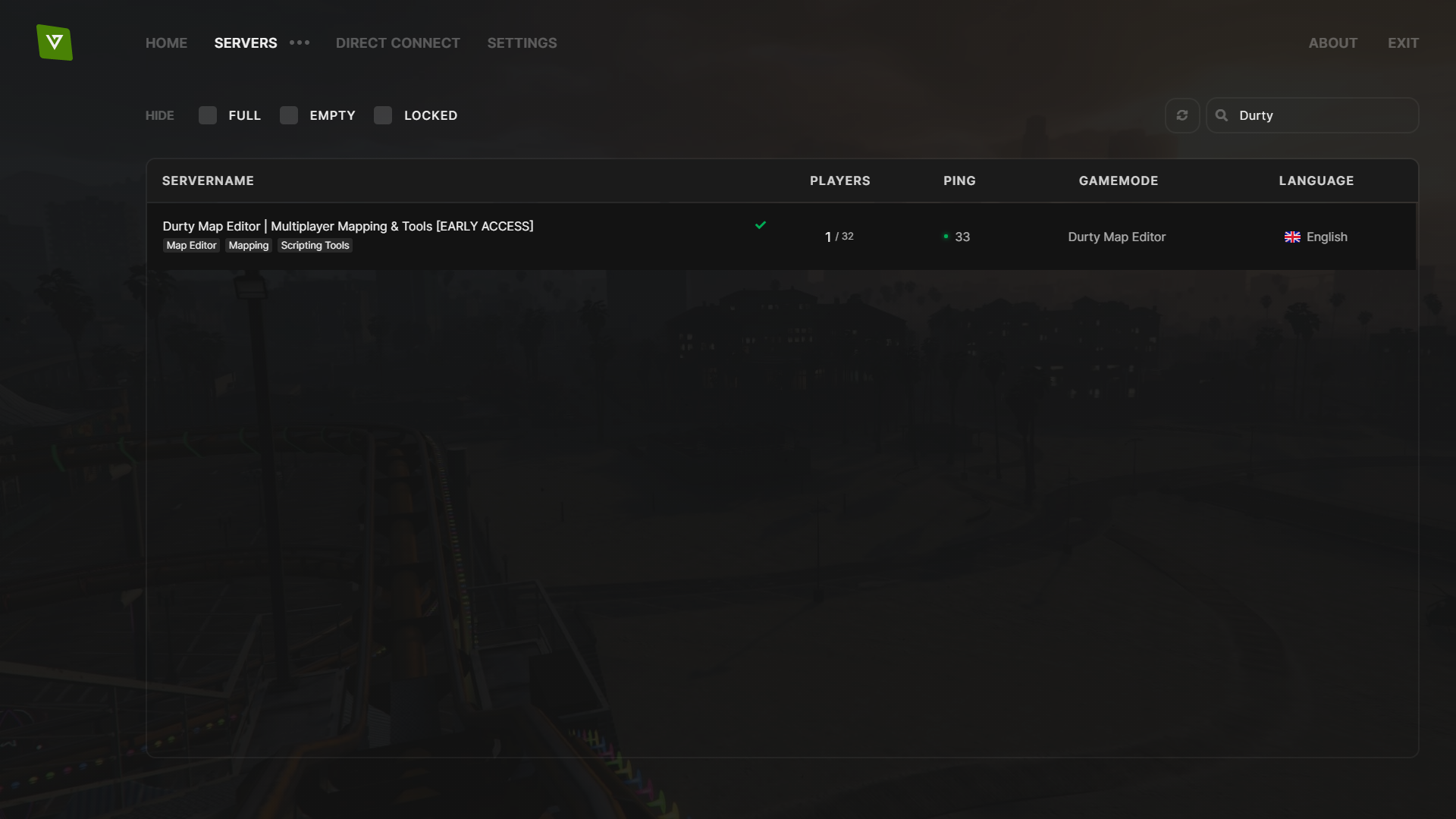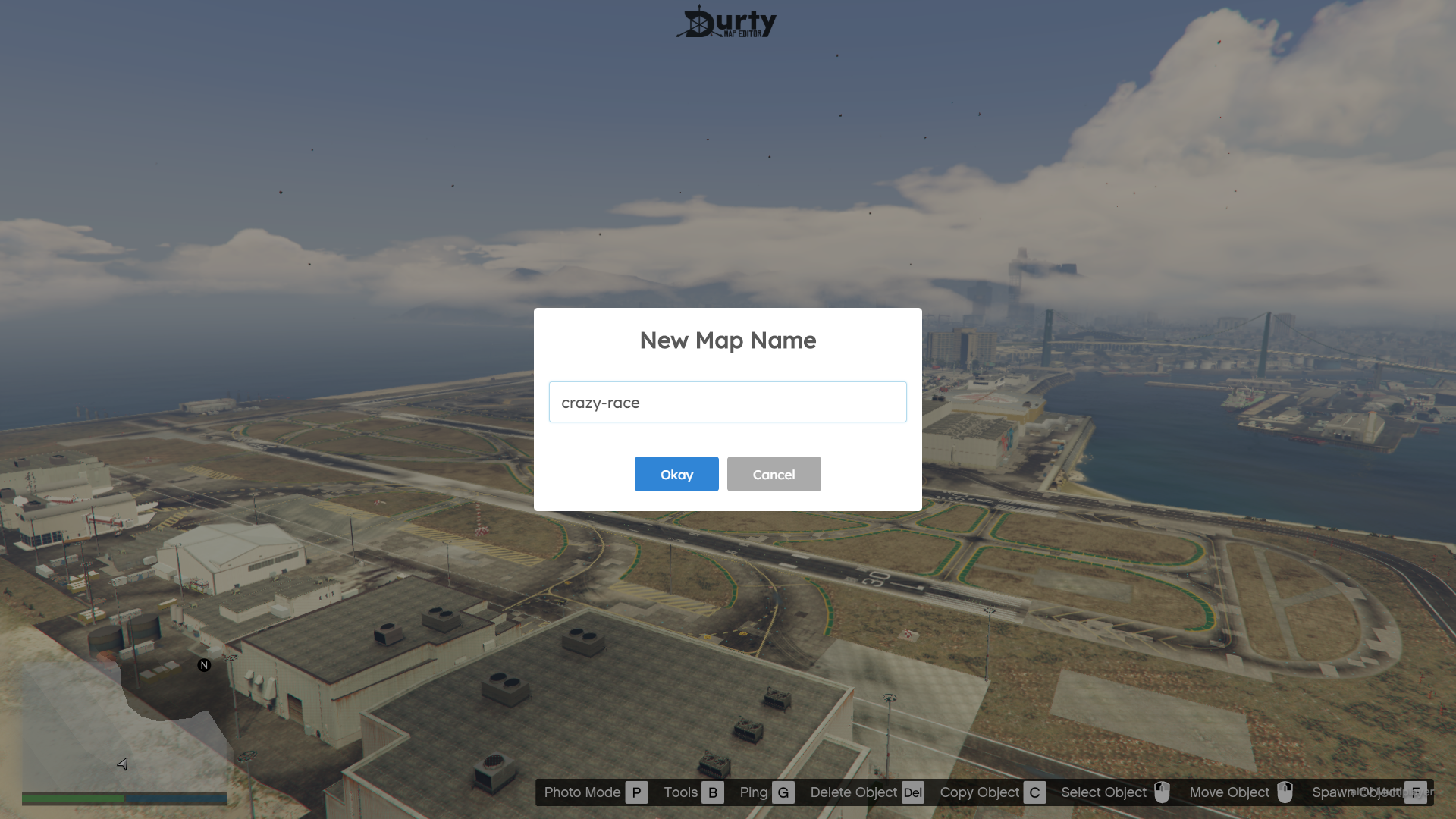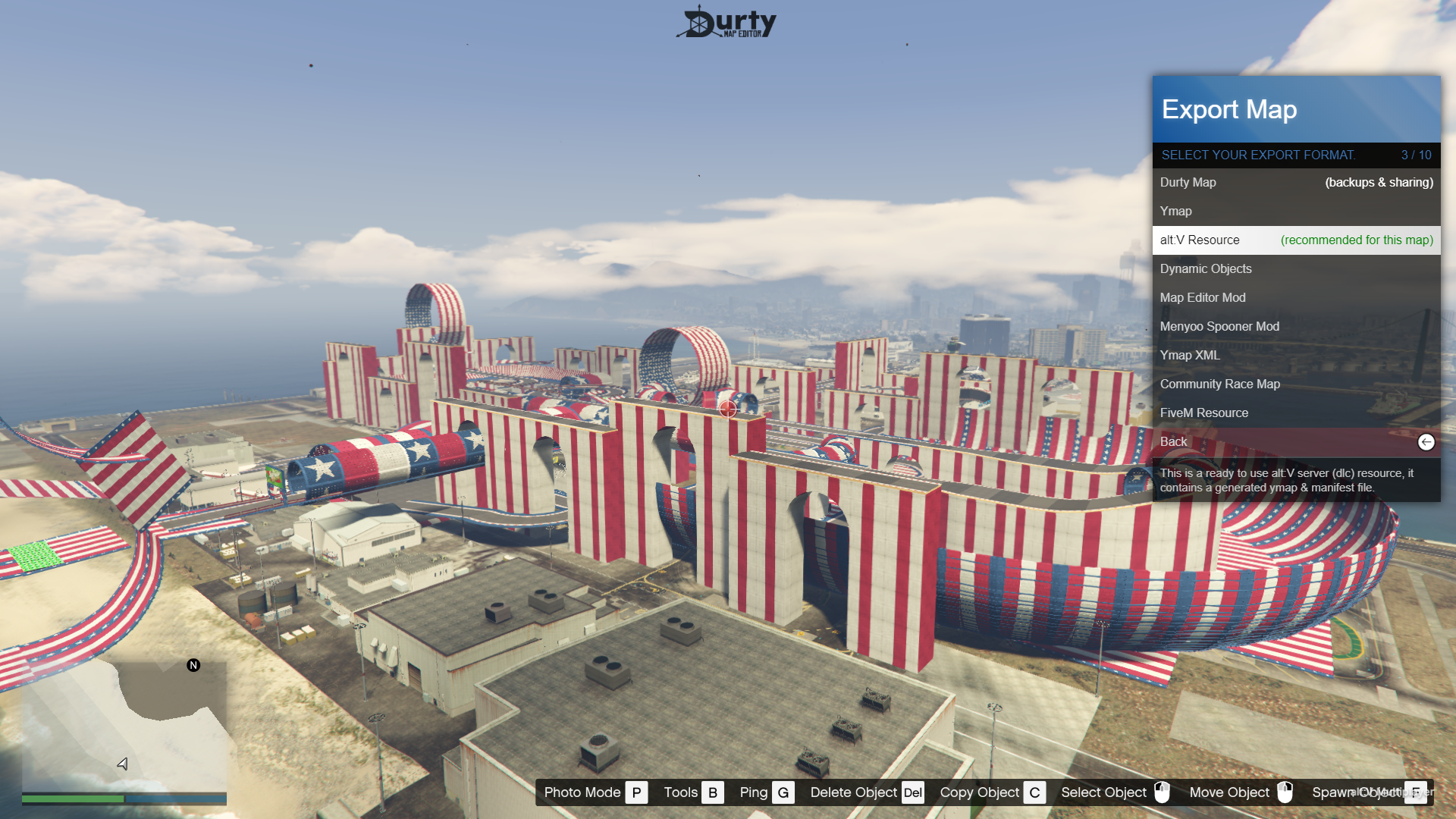 Why Durty Map Editor?
When you're working on your map you want the best tools. Durty Map Editor comes with amazing tools and features addressed to mappers and modders.
Find the right object
We all know this issue. Finding objects with our advanced object browser is already very easy, but sometimes you dont know what you are actually searching for. With this tool you can analyze the world and get all names of every object placed in the world of GTA V.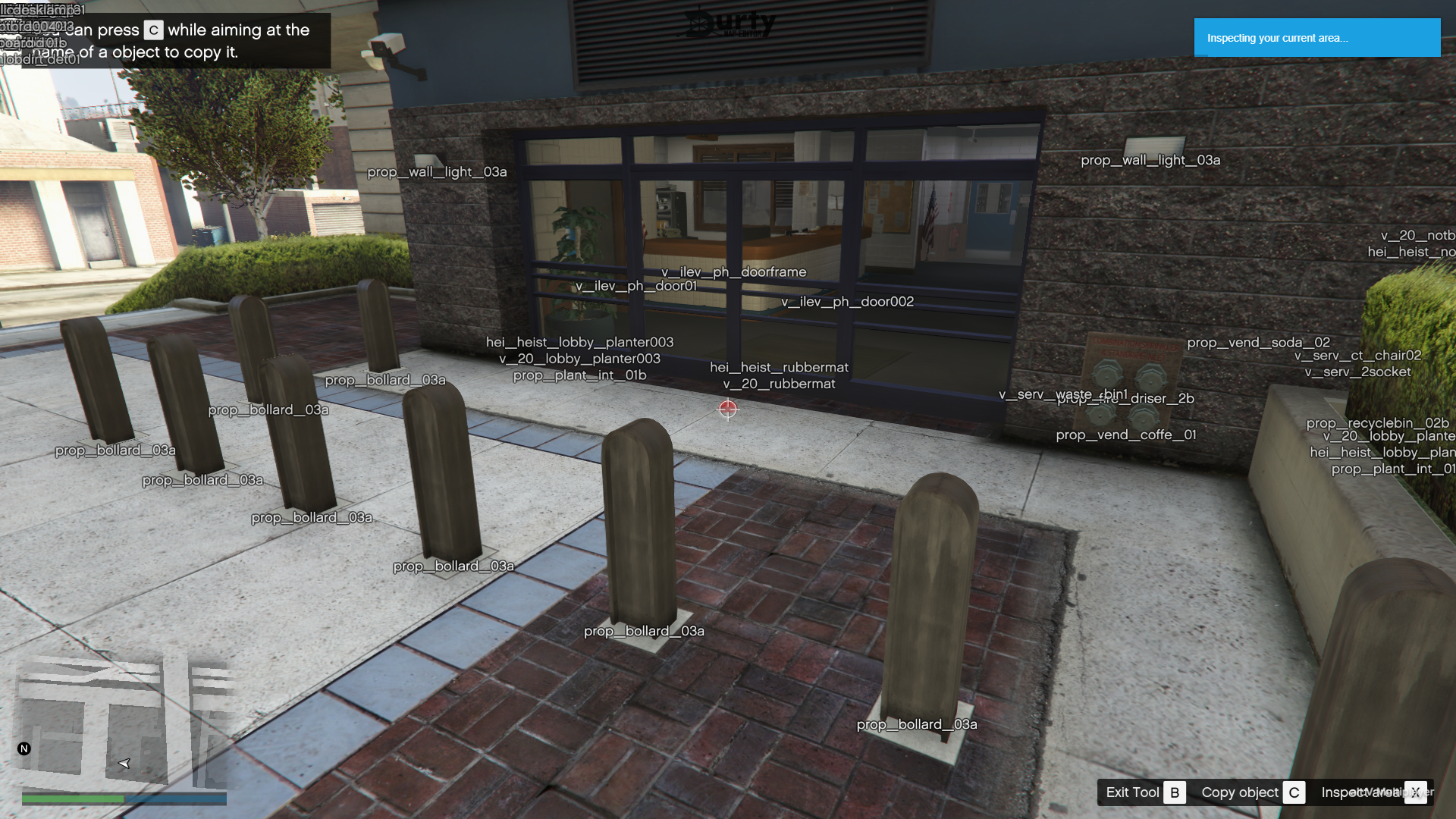 Stack objects or fill areas easily
This amazing tool helps you stacking objects easily in the direction of your choice. With the inbuilt fill options you can fill a whole area with objects easily. Configurable padding between the objects adds a lot of use cases for this tool.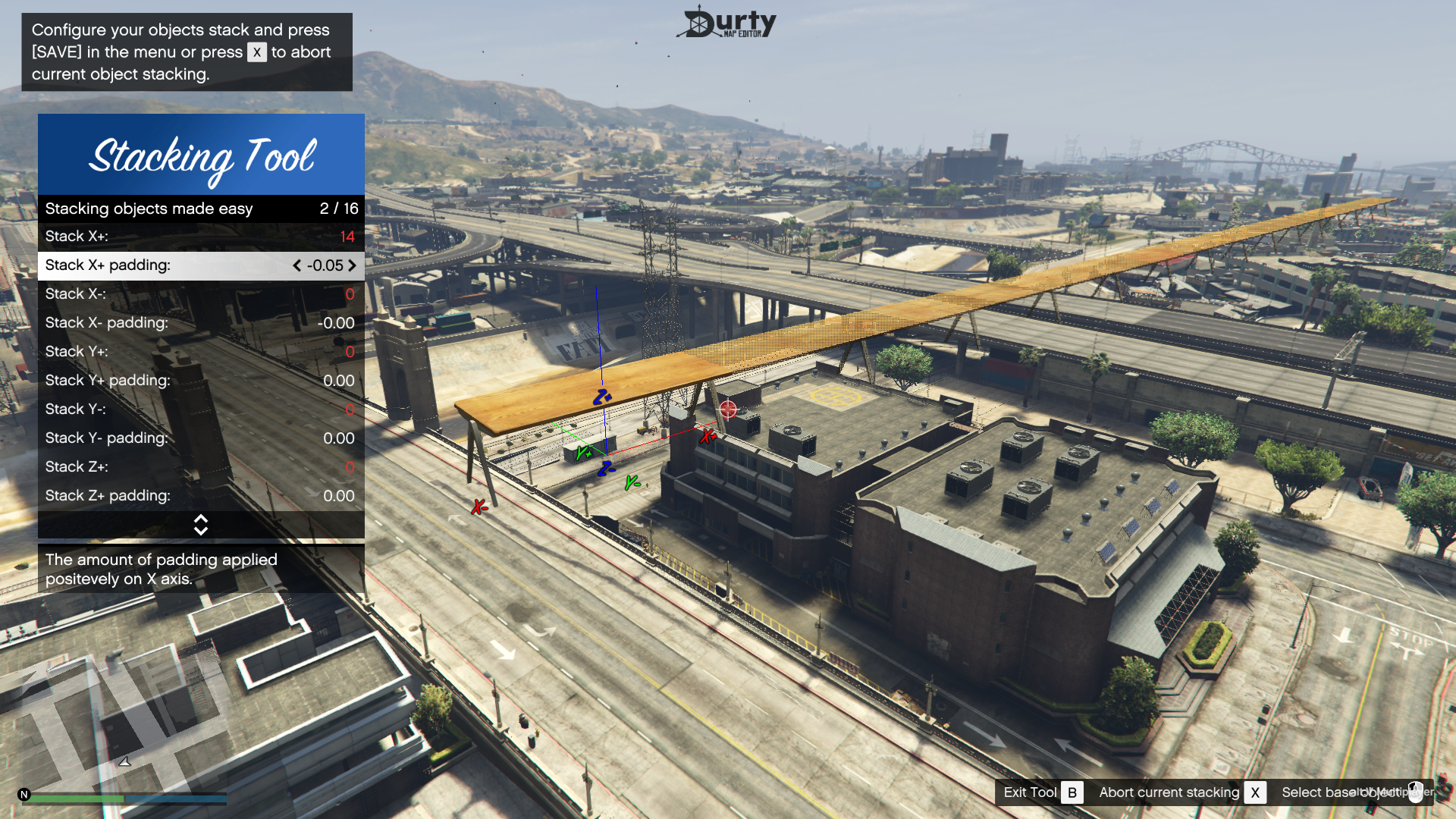 Create loopings, wallrides and more
Ever felt like that perfect looping object doesnt exist for your track? Use this tool to create your perfect custom looping, wallride or something else using the various settings available for this tool.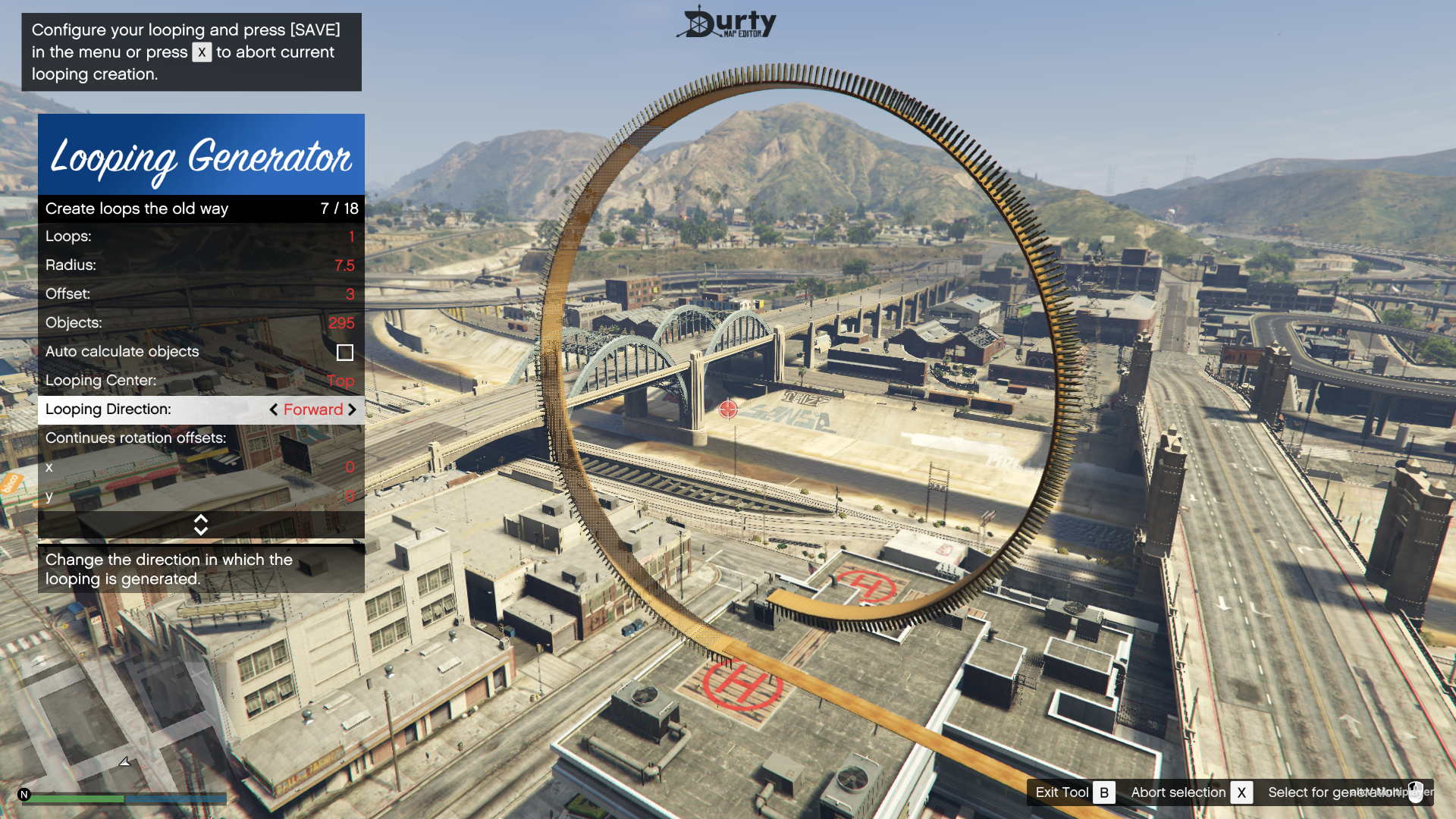 Get perfect camera scene shots done
Creating camera trips was never easier. Just save some camera locations, set interpolation times and you are ready to enjoy your map from your very own camera trip. Perfect for creating map trailers.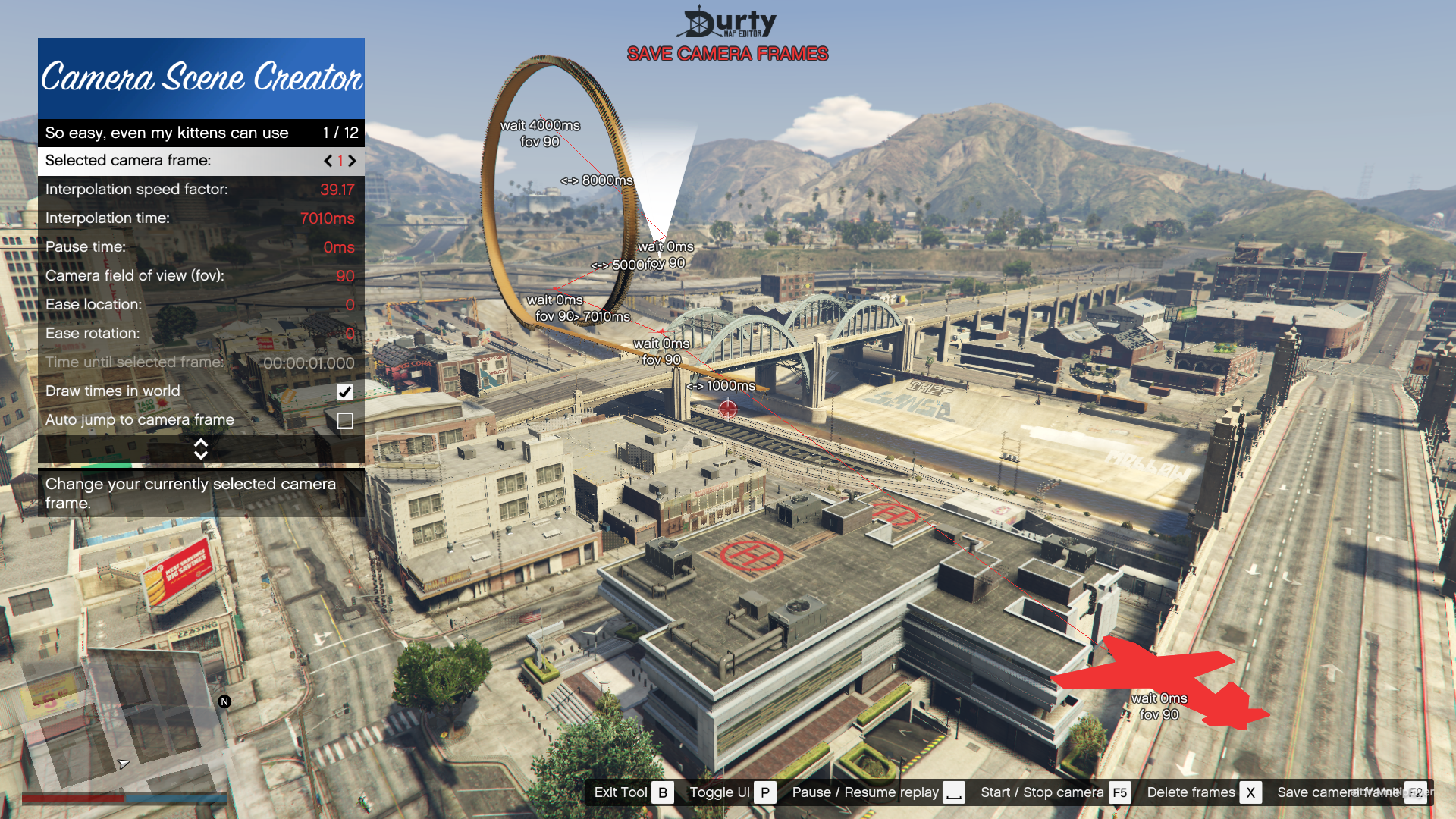 Analyze your movement
You can use this tool to record, playback and analyze your movement across your map in various custom playback speeds. Very useful to fine tune parts of your map where perfect movement is a need.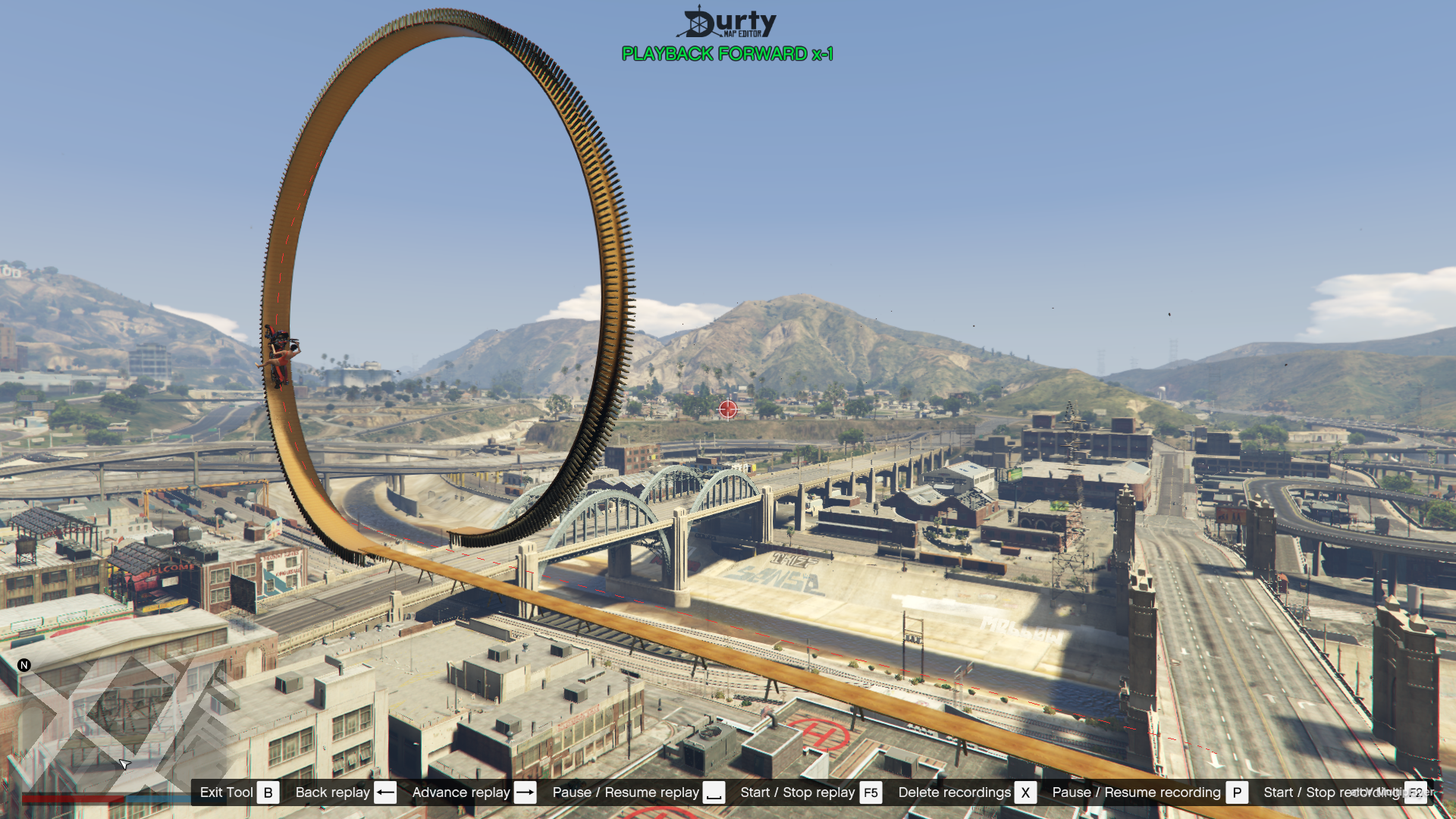 Create screenshots of your map
With this very simple tool you are able to create screenshots with basic effects automatically applied to them. Show off your map with style and without any annoying menus, hints or other texts on your shots!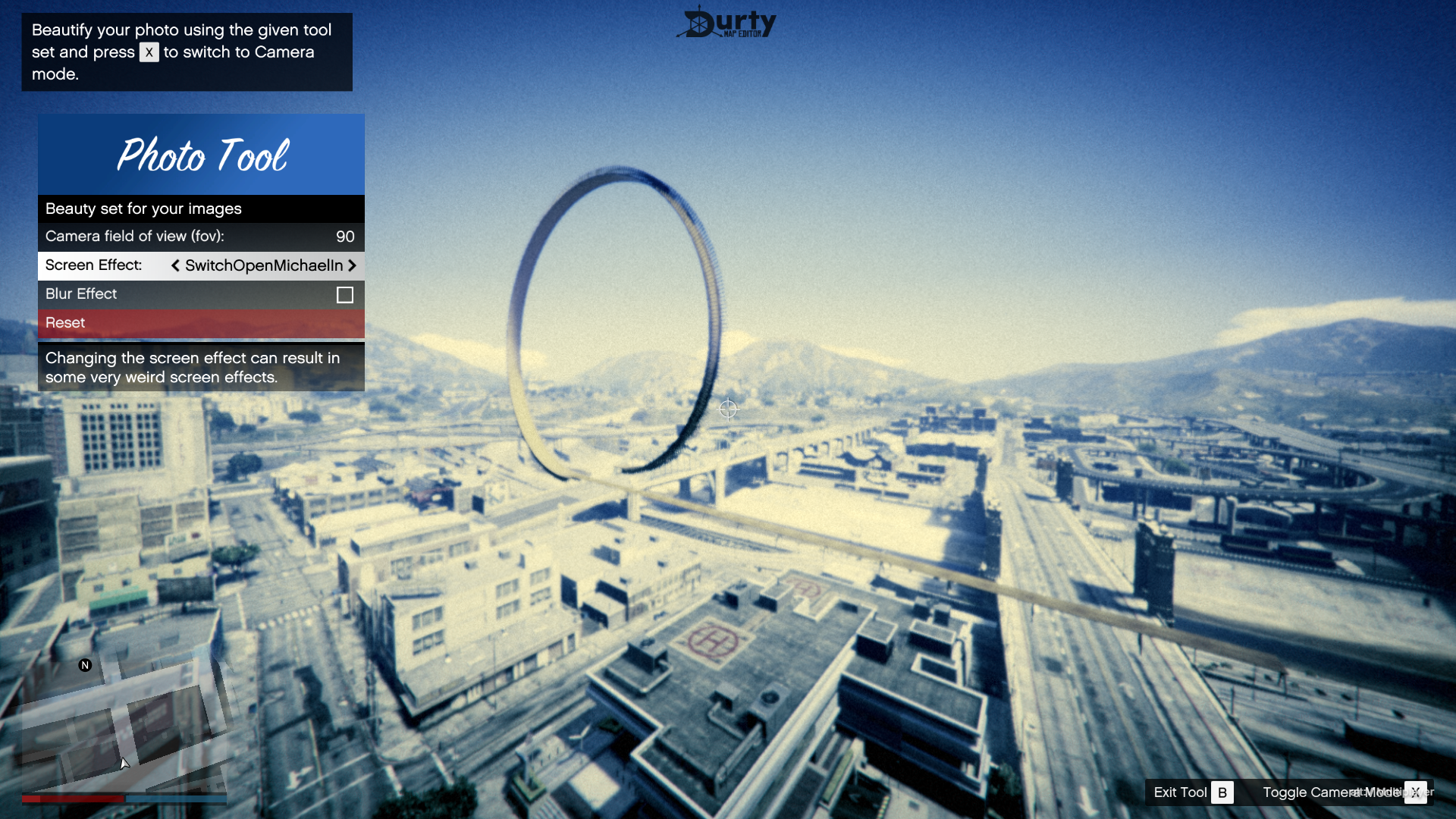 Some visual impressions
Take a look at how you can take advantage of the tons of features included with our Map Editor.

We work with Durty Map Editor every day. It is much more pleasant than mapping everything alone. When we find bugs, Durty provides quick support. Would I recommend the editor to others? Definitely yes!

---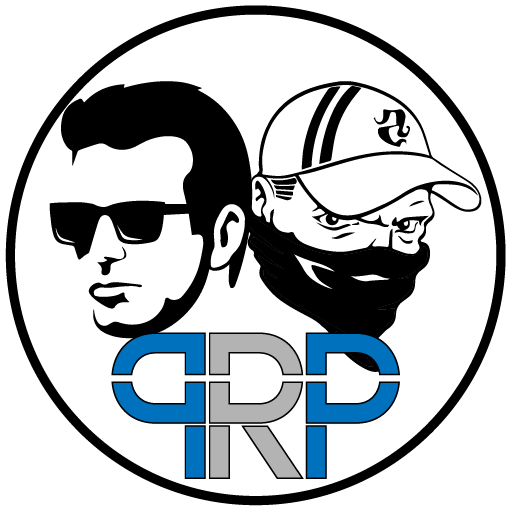 I use Durtys Map editor to make many different things, from browsing props to mapping exteriors and interiors of buildings.

The interface of durty map editor is amazing, features such as adjustable light colours and his stacking tool make maps that much better! Not forgetting that any custom objects that are added also get exported meaning we don't need un-needed props in our resources.

---

Durty Map Editor meets our daily requirements for a good editor. We work almost exclusively with it and we are very satisfied. I would definitely recommend Durty Map Editor.

---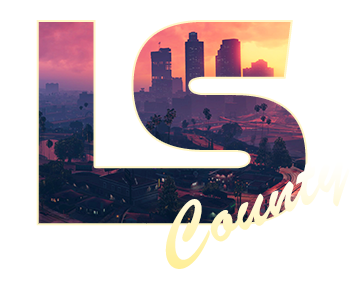 The Durty Map Editor is a highly sophisticated but very user friendly mapping tool. Its simple design and ease of use makes it the best mapping tool available for GTA:V. Technical support is always readily available, and development teams have worked with us extensively to help achieve our goals and desired outcomes.

Would we recommend the Durty Map Editor to GTA:V mappers? Absolutely. No questions asked. A big thank you to DurtyFree for creating such an incredible mapping tool, as it has helped us enhance our roleplaying experience in our community.

---

I use the Durty Map Editor for all possible mapping options. For both exterior and greenery as well as interior for buildings. But complete terrain (building + plot) could already be created with the Durty Editor. Personally, I am absolutely satisfied with the Durty Editor, especially since there are always innovations in progress and the Devs are open to questions and problems.

I became aware of the Durty Map Editor when I joined the Ultimate Live team.

---

Durty Map Editor is a powerful and intuitive editor. The control of the editor does not require any previous experience, which is why you can start right away. In my opinion the best feature of the editor is that you can work on a map with friends or colleagues at the same time. That's why I clearly recommend the Durty Map Editor.

---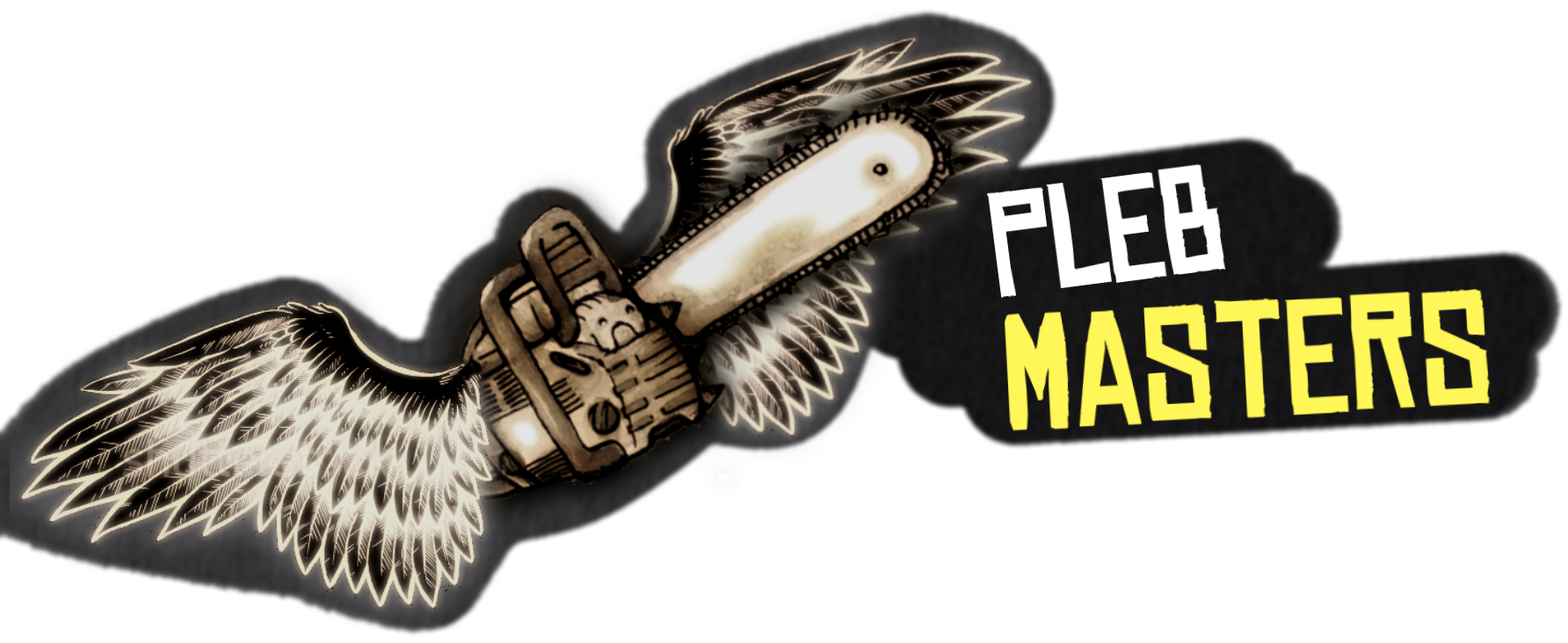 I developed Durty Map Editor because I felt like there is no advanced in game Map Editor available for GTA V yet, from my past experience I know that mapping in multiplayer is fun and thought this would be a nice project.

In my opinion this is the most advanced and easiest mapping tool out there and I will keep pushing this project forward to change the way we are creating maps / interiors in the future.

---
Stop looking for a
GTA V Map Editor
With Durty Map Editor you will have everything you ever needed.